Ecommerce Warehouses
LEELINE has a worldwide warehouse network for your inventory management. Cheap and automated storage with the warehouse management system.
Get repackaging, inspection, and fulfillment with complete branding. Make your eCommerce supply chain smooth.
Free Hassle Shipping From China
Bulk shipping discounts for complete container shipping. Get both 20 ft & 40 ft containers with short sea shipping.
We handle the shipping optimization before shipping to low shipping costs. Save money with cheap shipping routes.
You get urgent service for sensitive materials with air shipping. We handle paperwork and customs duties process. No delay at airports with experienced staff.
Also, get small boxes packaging before air shipping for Low dimensional weight. Cheap to ship and store.
Get smart rail route selection for fast shipping without delays at junctions. Easy to access Rail routes with our multiple warehouse locations.
Easy loading and unloading of rail cargo. No product damage with special handling.
---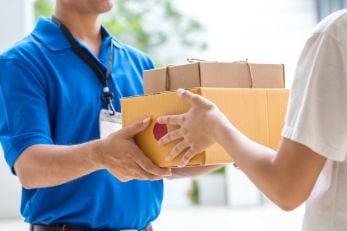 Complete shipping management from supplier to your warehouse or customer. Process your shipments from many suppliers at our eCommerce warehouse.
Get merged and repacked shipments to save labor costs and time. Complete door-to-door shipping with handling.
No more High Alibaba freight fees with us! LEELINE handles all your Alibaba shipping with extra service. Get Alibaba eCommerce warehousing for cheap storage space.
Fast processing of your Alibaba shipping for multiple sales channels and shipping routes.
Direct processed shipment to Amazon's fulfillment centers. Keep your backup stock in our warehouses to save Amazon high storage costs.
We add Custom labels, logos, and other branding materials for the brand's image. Automate your Amazon shipping process.
Why Choose Us?
Free Storage
Get 30 days of free eCommerce warehouse space. No need to pay a penny for initial storage. Check & test our inventory management. Special handling according to your product.
Fulfillment Centers
Fast fulfillment processes with many shipping carriers. Your customers get prompt shipping. Access our third-party logistics infrastructure for personal or business use.
Automation & Real-time Updates
Warehouse automation gives you boosts in business. We make eCommerce warehouse management Less time-consuming for you. Real-time inventory and storage updates for quick decision-making.
Global Access
Proper warehouse management in different countries and regions. Access your customers and audience beyond borders. Expand your eCommerce business without barriers.
Hear it from fellow Products Wholesaler
LEELINE has a wonderful staff! Very cooperative, especially when you are stuck at something. Their fulfillment service not only makes me happy but also my customers are happy. I recommend these dudes to every eCommerce merchant.
– Charles, California
---
Ship From China and Make Big Money
We offer the best wholesale price and high quality products and help you ship from China.
---
Ecommerce Warehouses: Ultimate Guide
Confused about choosing the right e-Commerce warehouses?
Don't look elsewhere to avoid confusion! Our experts have handled hundreds of eCommerce shipping cases. This guidebook gives you a complete overview of eCommerce warehousing. Helps you to make sound decisions about warehousing.
Keep reading about eCommerce warehouse management systems. Better inventory control and a fast delivery process.
What is ecommerce warehousing?
eCommerce warehouse management refers to goods storage before selling them online.
E-Commerce businesses don't have any physical shops where people see showcased goods. They have an online store and need to store their goods elsewhere. You store inventory in-house as a starter. But you need to scale your business. Most eCommerce retailers chose warehouses and fulfillment centers.
Why do they need warehousing?
Inventory Automation
Storage management
fulfillment purposes
First, online stores need shipping process automation. eCommerce warehousing uses inventory management software for tracking & management. Staff stores inventory and fulfills the orders.
Yet, some warehouses have the sole purpose of storage, and others do fulfillment. It depends on which sort of warehousing you need. These fulfillment centers pack and ship orders to the customers.
Types of eCommerce warehouses
eCommerce warehouse could be a Government warehouse or private-owned. Most of the time, Private warehouses are joint ventures of different businesses. These joint ventures are cooperative warehouses. Yet, every warehouse has a different purpose. Here are a few types of eCommerce warehouses.
1. Single-channel Fulfillment centers
This warehouse focuses on single-channel fulfillment. They collect shipments from suppliers, inspect items and store them. Amazon's centers are the right example of single-channel fulfillment centers. They offer good inventory tracking and management.
2. Dark warehouses
These warehouses have a single purpose of storing things. They don't do much; they organize inventory and send it to fulfillment centers. Businesses use them to back up stock. They have a good transportation system for bulk management. This is often a smart warehouse with less labor.
3. Multi-Channel Fulfillment centers
Fulfillment service providers use these warehouses. They fulfill orders on many channels( marketplace, website, and direct orders). Management and automation are tough for these warehouses. A single mistake in their operation leads to a wrong inventory. Their warehouse equipment is more organized & focused.
4. Return Handling or damage repair centers
These are rare and not preferred for daily warehouse operations. Only handle the return of big eCommerce merchants. Staff filter out most damaged products and discard most of the inventory. Big eCommerce businesses use them to lower the workload on their main warehouse.
5. Temperature-controlled warehouses
Food supplies, chemicals, and drugs need a special temperature-controlled warehouse. These warehouses must meet certain certifications & licenses. Best to store Time-sensitive items there. Sometimes, these are cooperative warehouses due to high expenses.
6. Consolidation warehouses
Suppliers' inventory went to consolidation warehouses for inspection & repackaging. They don't store inventory for long. It's a short storage time. Shipping companies use these stores for shipment consolidation before shipping.
How to choose the right eCommerce warehouse?
Order fulfillment and inventory storage are pivotal points for eCommerce businesses. eCommerce business meets their customers through products. So one mistake like late shipping or a damaged product ruins your reputation.
Here is what you should remember while choosing the right eCommerce warehouse.
1. Location
Use targeted market location for warehousing. If you have a custom audience from a specific region, then better to do warehousing there. Also, every location has a different supply and demand system. So if you are getting closer to the location at better rates, go for it.
Management & operational capacity
Be clear about these things. Ask their management & staff these important questions.
What is their management capacity?
How do they operate?
Do they have all software and tools for full automation?
Be clear about these things before choosing a warehouse. Better to visit once if you see their operations. Also, check their inventory management systems to control inventory.
2. Special Handling
Ask about their handling procedure If your item needs special handling. Go with the temperature control warehouse if you have time and temperature-sensitive items. See their certifications & license.
3. Pricing & budgets
The most important is your budget. Better to shop around and get maximums bids or quotes. Compare everyone's price with their feature. Negotiate over pricing. Show them the big picture or your long-term collaboration dream. Most warehouses give discounts on bulk inventory.
4. Fulfillment options
Almost every warehouse do fulfillment, but some offer a little bit more. So do you need different fulfillment options for your orders? (Shipping options from many carriers). Ask about do they provide branding while fulfilling.
Branding is an important aspect. It is always good to tell the warehouse your brand's image and story. They would do branding as per your need.
5. Specific needs
Do you have specific handling or management requests? Some warehouses entertain custom requests, and some do not. Better to ask warehouse managers.
Conclude your points. And confirm your services in agreement. Make a deal and start using their eCommerce warehouse management system.
Example of e-commerce warehousing
Suppose you own an online store. You sell shoes, and you have stock in a certain warehouse. Now you got an order and transferred it to your warehouse. Use integrated software for both you and your warehouse.
They saw details of orders and fulfilled that particular shoe size and color. Your customers get the order with proper branding. Now warehouse updates the inventory in management software. You get a follow-up update.
How is this got possible?
Excellent warehouse management software. You both get updates about orders and inventory from a single software. They use their staff and tools to store your inventory with marking. So they won't get lost in the warehouse. Also, they add branding and inspect items before shipping.
Looking for the Best China Freight Forwarder?
Leeline helps you ship from China to Anywhere in the World!
FAQs about Ecommerce Warehouses
How does an e-commerce warehouse work?
They receive your items with your labels on them. They add their barcode markings and update inventory in their system. You get updated inventory levels in your store. If any inventory got sold or shipped out, they show zero inventory.
What is the difference between a distribution center and a warehouse?
Both are similar but with different purposes. The warehouse only stores inventory and manages the supply chain. Distribution centers do little more. Get repackaging, branding, and merging of your inventory. Distribution centers ship orders to your customers. 
Is a fulfillment center the same as a warehouse?
No, fulfillment centers fulfill orders to the customers. They focus on branding, packaging, and order fulfillment. Storing your inventory is the main purpose of warehouses. Some warehouses do fulfillment as well. 
Are warehouses in high demand?
Yes, E-commerce is booming, and storage spaces have high demand. The warehouse provides storage with proper management. Items get updated and are safe from the harsh climate. Warehouse has rising demand. 
What's Next
eCommerce business model needs proper warehouse management systems. They are businesses' backbone. Poor eCommerce warehousing processes ruin your supply chain and business growth.
You can't compromise on eCommerce warehouse management. eCommerce companies invest hefty amounts for a good storage location. You also need one!
LEELINE has a warehouse network around the world. Contact us to discuss your warehousing strategy to excel at eCommerce platforms.
Do you want ship Goods from China To Global?
Hey, I'm Sharline, co-founder of Leeline. We've helped 5000+ customers shipping from China.
Do you want a better price on shipping?
We are sorry that this post was not useful for you!
Let us improve this post!
Tell us how we can improve this post?